NYC Staff
"The DESSA has been instrumental in helping my teachers understand my students through a strength-based lens."

-Candace Hugee, Principal, Urban Assembly School for Collaborative Health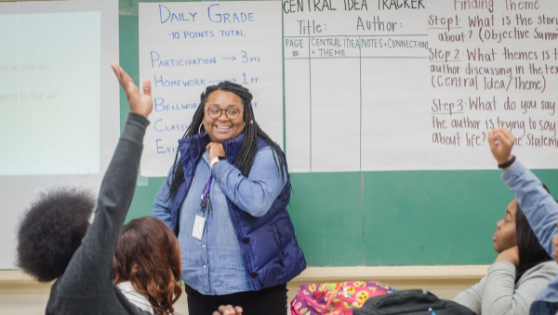 SEL Screener and Intervention Program:
Quick to Administer
Reliable Data
Drives Instruction
Supports Student Growth
1. Complete the DESSA screener: With Aperture's SEL screener, you can screen each student's social-emotional competence in less than 5 minutes.
2. Make decisions with data: Analyze screener data to identify students who would benefit from additional support and to strengthen the implementation of proactive, universal social-emotional skill building provided to all students.

3. Take action with strategies: Utilize your SEL data to select and track intervention strategies within the Aperture System to help your students strengthen their SEL skills.
Frequently Asked Questions
What is an SEL screener?
A social-emotional screener is a brief questionnaire that asks about various aspects of a student's social-emotional wellbeing. It is designed to assess their functioning at a point in time to inform how classroom teachers and other school staff support them.
What screening tool is being used?
The Devereux Student Strengths Assessment (DESSA) is a brief questionnaire that asks about eight domains of student social-emotional wellness: personal responsibility, optimistic thinking, goal-directed behavior, social awareness, decision-making, relationship skills, self-awareness and self-management. There is a teacher assessment option for students in grades K-8 and 9-12, and a self-assessment option for students in grades 9-12.
Is training offered?
The Urban Assembly's team of SEL specialists will provide both live and asynchronous training to school-based staff around effectively mapping and assessing high-quality SEL activities through the UA's Resilient Scholars Program (UARSP) Portal. The UARSP Portal provides real-time actionable data to identify trends across the student population, make data-informed decisions, and create actions to address trends and gaps.
How is the screener completed? How long does it take?
The screener is completed online with pre-populated items and response choices. It is a Likert Scale instrument with 5 response choices for each of the 40 strengths based items.
It takes up to 5 minutes to complete and is scored automatically through the online portal. Scores are organized according to the 8 broad domains of social-emotional competence with categorization as typical performance, area of strength or area of need.
Who completes the screener?
The adult that knows the student best will complete the screener. Each school will make a determination about who that is. In elementary schools, this is likely the classroom teacher. In middle or high schools, it may be the advisory or homeroom teacher. Schools will have choice in how to determine this.